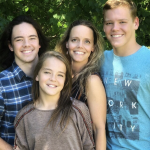 We love a lot of things at the Stockstill household, but one of our favorites is… we love to travel!
It is truly a humbling experience to drive the roads through God's beautiful creation; how they wind and flow and weave in and out. The experience has affected our family so much, that it inspired the name of the Gypsy Ribbon Collection. We believe the word "gypsy" conjures the image of adventure and freedom while the word "ribbon" instills the feeling of traveling the winding and flowing roads.
Shown are just four examples of Novi's designs. Each bracelet is directly inspired by a National Park, and our hope is that they capture not only our memories and future plans, but hopefully those of others as well. Throw a bracelet on and GO EXPLORE. Each bracelet is an opportunity to celebrate and memorialize where you've been or want to go.
On our site, you can check out all of our Gypsy Ribbon Collection.
Soon, each wrap will get its own spotlight as we highlight each individual feature and how it is inspired by the National Park that it's named after! We realize that a lot of people aren't aware of the design process, and it's super neat! Be on the lookout for those posts coming in the next couple of months.
And as promised, a special thank you to our Newsletter subscribers:
WE ARE GIVING YOU A COUPON TO GET 30% OFF ONE ITEM IN OUR STORE!
Only available through April 2021. Use it at checkout, and happy shopping!
Here it is: subscriber30